Text and photographs by Asdren Rrahmani
This famous hilltop metropolis, located 20 kilometres east of Kosovo's capital Prishtina, was once famous for its silver production. Having for a long time fallen into ruins, the archaeological remains now make for an atmospheric day trip out of the city.
It was a sunny day and I was again getting one of those rushes in the middle of working day – a rush to be out in the open and taking photographs, so I had all afternoon to decide my next destination.
Then the ancient ruins of Artanë, or Novo Brdo, came to mind, so as soon as I was done with my work, I went home, quickly changed, took my photo gear and jumped into my car.
The afternoon weather was wonderful as I drove down the winding road at Badovci Lake, an artificial lake that used to be the main reservoir for Prishtina. Because of the lack of rain and snow last year the water levels had dropped significantly, and it wasn't much of the sight, however, so I drove on without stopping.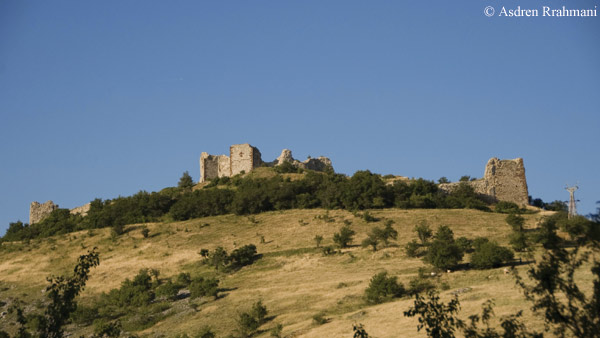 After half an hour I reached a road sign telling me to turn left, and after another 8 kilometres, a second sign directed me to take another left. By now I could discern the ruins of the ancient city on top of the hill. I followed the road for 10 minutes and when I reached a point that looked suitable for my first photos, I stopped and took some wide shots of the ruins.
An additional 10 minutes of driving took me to the nearest point that could be reached by car, some 200 to 300 metres' walk from my destination. It was nothing, so potential visitors to this site should know they can reach it by car, whether or not they are fond of long walks and climbing.
The Gumnishte fortress was built in the fourteenth century. With 4.6 metre-high walls, it was part of a fortified medieval city. Today, little of the actual fortress remains, though more than enough to give an impression of how imposing it once was.
As with many other historical sites in the Balkans, there are two sides to its history. Without going into describing both, I will just stick to an official one.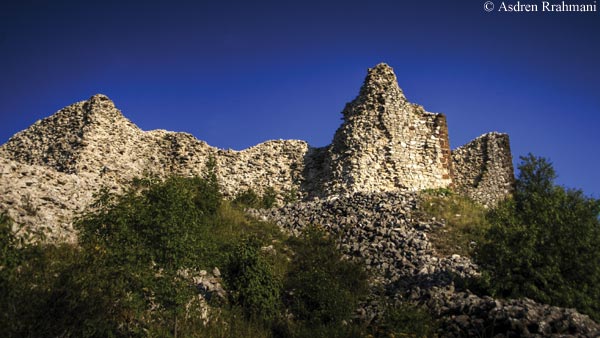 Thus, according to Wikipedia, Novo Brdo was once a metropolis, with a huge medieval fortress built on the top of an extinct volcano cone, "the remains of which can be visited today".
The population at its height was estimated to exceed 10,000. "There were mines and smelting furnaces for iron, lead, gold and silver ores. Novo Brdo silver is known by its argentum glame (an alloy of silver with 1/6-1/3 gold). In 1450, the mines of Novo Brdo were producing about 6,000 kg of silver per year. The fortress came under siege for forty days by the Ottomans, capitulating and becoming occupied by the Ottomans on June 1, 1455."
The ruin overlooks many villages that lie in the valleys below. You can also see the relics of an old mine in the distance, but I didn't approach the mines as I was waiting for the sunset in order to take few pictures inside the ruins.
There, I took a few good shots before night closed in, and I started packing up my gear to make my way back. As I was going downhill back to where I had parked my car, I heard voices behind me, so I quickly turned on the camera and aimed at the top of the castle, hoping those voices would materialize in a shape of people on top of the castle.
And I was right. Just before I knew it, two persons, an adult and a boy appeared, making they way quickly. I only had one chance to take a shot, which I did. This photograph is now one of my favourites in the silhouettes category. I made it the desktop photograph on my computer and I am quite attached to it.
I only realised how nice it was once I'd opened it full size on the computer screen as opposed to seeing it on my camera display. It was my last shot of the day – a happy ending.
This article is courtesy of Balkan Insight, the online publication of the Balkan Investigative Reporting Network, which contains analytical reports, in-depth analyses and investigations and news items from throughout the region covering major challenges of the political, social and economic transition in the region.
Read more about Kosovo on BalkanTravellers.com

Hëna

Senior Member








Number of posts

: 179


Registration date :

2009-02-10


Points :

12


Reputation :

5



Similar topics
---
Permissions in this forum:
You
cannot
reply to topics in this forum