In the Homeric poems, the author is naming many times several battles as 'κυδιάνειρα' which has been translated "giving glory to men" (kydos aner) because aidos=honor and aner=man.
In my opinion, this proposed translation is wrong. Its true that kydos has been widely accepted as 'honour', but this is just a definition to the word which in Albanian means: that gives(qe dhosh).
The second part again is been interepreted in a wrong way because νειρα(njeira) has not been used to define the man but the honour or
ndera
in Albanian. So the result is the same, but the way getting there is completely different.
The word νειρα is not a
man,
whose declension is like the following
Acient Greek-------------------------Albanian
ἀνήρ(anjër)---------------------------njëri
ἀνδρός
ἀνδρί
ἄνδρᾰ
ἄνερ
But the other Albanian word nder=honour after the vowel contraction.

which in Geughes dialect is simply
ner
while in the standart language become a digramma nd.
This assimilation of stops phenomenon in Gheg dialect is very common. niq-ndiq, ner-nder etc.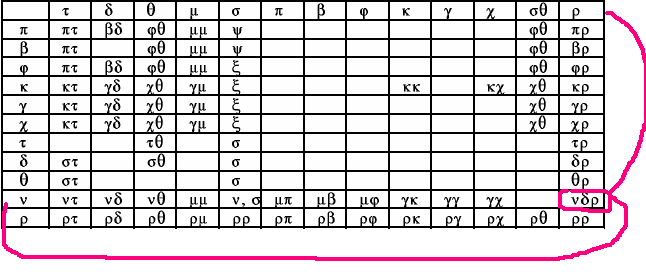 So κυδιάνειρα =qe dha ndera.
Last edited by ZEUS10 on Fri Aug 23, 2013 12:56 pm; edited 1 time in total
Shume interesante ZEUS 10,vete kam shum koh qe mendoj per kete veper(iliada-odisea)dhe mundohem per te gjetur nje shpjegim llogjik, ne lidhje me emrat e personazheve kryesor te kesaj vepre.Une mendoj se Omeri historin qe e hodhi ne leter, e kopjoi ne nje fare menyre nga RAPSODET e kohes se athershme, per vete faktin se vetem rapsodi, do ta percillte ne atye menyre historin e ngjarjes(luften e trojes)ku personazht kryesor nuk kan emra origjinal, por emra te cilet jan formuar ne baze te rolit qe personazhi ka ne kete veper, persh;

HAKILI=cfar ben ky ne veper,ose cilat jan gjerat qe spikatin ne kete personazh?Te gjith e dim se ky kishte HILE ( se mund te vritej vetem ne thember) dhe se ai u HAKmorr ndaj Hktorit,pra une dal ne konkluzionin se Hakili e mori kete emertim,nga roli qe ai ka ne kete veper, dhe jo se duhet te jete quajtur keshtu ne te vertet, cfare na le te kuptojm se, mund te jete nje histori qe ka ndodhur shum me heret se sa ta shkruante Homeri, dhe deri sa arriti tek ai, u harrua emri i vertet i personazhit, por mbijetoi bema apo nami i tij me an te fjaleve brez pas brezi ose nje fare kategorie njerzish qe jan marr me rapsodin dhe i kan intepretuar keto histori -kenge(tregudhi)ashtu sikur kemi dhe ne ditet e sotme rapsodet tan.Mora thjesht Hakilin si shembull, se ne kete veper ka shum te tille qe mund ti nxjerresh kuptimin e emrit ne te njejten menyre sic bera lart me Hak+ili persh;

HEKTOR=TER+HEK ai qe u ter+hek perrth kalas se trojes
PARIS=PARSI=MARSI ai qe mori elenen
ELEN=E+LEN ajo qe e len burrin dhe iku me nje tjeter
ODHISE=UDHESI ai qe udhetoi gjat per te shkuar ne shtepi
MENELAU=MENDJA E LA, u terbua nga ikja e gruas se tij etj etj

sulioti

Regular Member








Number of posts

: 70


Age

: 42


Location

: belgium


Registration date :

2009-02-10


Points :

22


Reputation :

22



ju keni shume te drejte
prandaj nga veriu thone/ tu rit nera

Lionheart

Junior Member








Number of posts

: 6


Age

: 54


Location

: Everywhere


Humor

: I make laughing humor actors


Registration date :

2009-03-30


Points :

2


Reputation :

1



---
Permissions in this forum:
You
cannot
reply to topics in this forum